Settings
Settings can be accessed by selecting the Settings (gear) icon located in the bottom of the Main Menu. Settings allows you to change the following features:
Firmware Update



Software updates for your Zepp Sensor that load from your phone onto your sensor to increase the accuracy of the sensor as well as allow the sensor to capture information for new metrics. These updates come with select app updates when they download from either the App Store or the Google Play Store.



​Note:

The firmware update tab shown in the picture below will not appear if your sensor's firmware is up to date.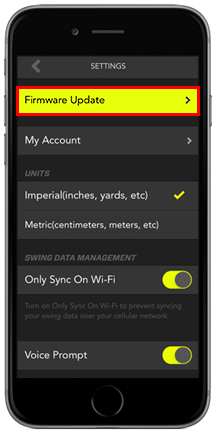 My Account Settings
​
Here you can change different aspects of your account such as your name, height, grip settings, etc.
​
Voice Prompt
When Voice prompt is activated, there will be voice commands for the following features within the app:
Sensor Connected / Disconnected (voice indicating you have connected or disconnected to/from the app)

Calibrating the sensor (voice indicating you are calibrating)

Capturing a switch (beeping noise)
To enable or disable voice prompt feature, tap the settings icon located in the bottom of the main menu to access the setting.
Units
This function allows users to select whether they would like the units in the app to be shown by the imperial system (MPH) or the metric system's (KPH) units of measurement.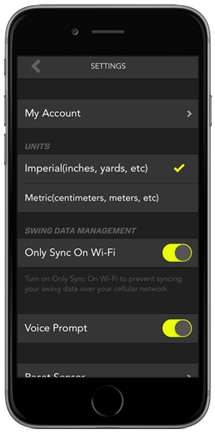 Only Sync on Wi-Fi

Enabling this setting blocks the Zepp app from using cellular data to sync your swing data to the cloud. If you have this setting enabled and would like to sync the data after a swing session, simply open the app while connected to Wi-Fi and the information will automatically begin to upload to our servers. Syncing data to the cloud is recommended for all users as it acts as a back-up for all of your swing information.