old_Compare a Swing
With Zepp Golf, you can compare two of your own swings, or compare your swing with a swing captured by Professional Golfers Keegan Bradley, Brendan Steele or Ryan Winther. Users that have captured swing data using the Zepp Golf sensor can compare the 3D rendering of their swing to these professionals. Additionally, users without a sensor can compare their captured video swings by using the video tool.
There are two ways to compare swings:
1) Compare from 3D View: To compare, find a swing that you would like to compare and select it from your swing History. Once selected, tap the three horizontal dots located in the bottom right corner of the 3D View. This will open a menu that has the option to "Compare This Swing." Select this option, followed by selecting whether you would like to compare two of your swings or compare to a pro. When comparing to a pro, select whether you would like to compare to their swing using a 7 iron or driver, and for video compare, be sure to select which view you would like to use.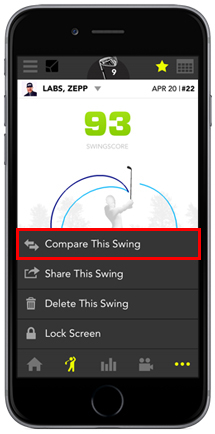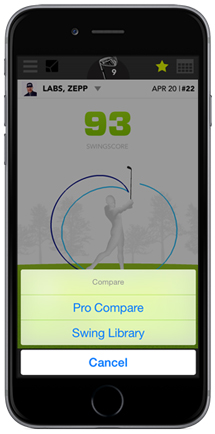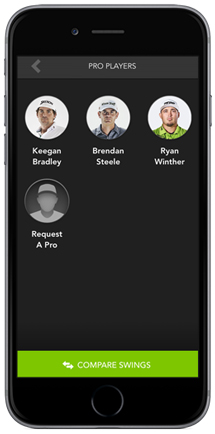 Note: For the most accurate comparison, we recommend selecting a club and perspective that match those used in your swing.
2) Compare from Pro Players: Alternatively, you can compare swings from the Pro Players section. From the main menu, select Pro Players. This will open a list of all Pro Players in the app. Select "Compare Swings" located at the bottom of this menu. Here you will can either compare two pros, or compare yourself to a pro. To select yourself, tap "Users" followed by your name. Next select the pro that you would like to compare yourself to. Finally you will select a swing from your swing history as well as a swing from the pro's library.