Does a Single Zepp Sensor Work for Multiple Sports?
The Zepp 2 sensor is multi-sport, meaning that the device will work for both major Zepp sports: Baseball and Golf. All that is required to use the device for each sport is the appropriate sensor mount and free app. Each sensor kit we sell comes with one mount for the sport it is purchased for, and additional mounts can be purchased from our webstore.
In order to use the device for multiple sports, you'll want to download each sport's respective app. Once downloaded, you can either log in using the same account information (email and password) in both apps, or create a new Zepp account for each app (all accounts must use a unique email).
Once this is complete, power the Zepp sensor on, pair it to your mobile device via bluetooth, and open the app you wish to use the sensor with. If you are switching from another sport app, the sensor will ask you whether you wish to change to the new sport's 'mode.' Select "Continue with Baseball" to continue and use the Baseball app.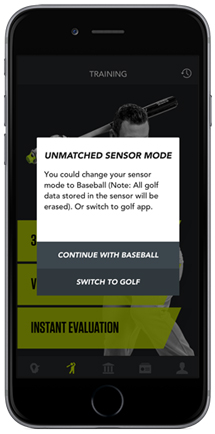 Selecting "Switch to Golf" will not delete any captured swing data that you have captured within any of the Zepp apps, though it can erase any data that is stored locally on the sensor's flash storage. To upload data off of the sensors flash storage, simply open the Zepp Sport app that was last used and allow any swing data that is stored on the sensor to upload to the app. If data does not immediately begin to upload to the app once the sensor connects, then the flash storage of the sensor is empty and you can switch applications without losing any swing data.